Foundation Celebrates Read Across America Day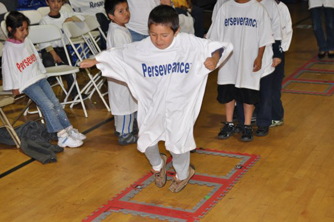 Every year on March 2nd, the National Education Association celebrates the birthday of Dr. Seuss with Read Across America Day. This year, Chris Draft and the Chris Draft Family Foundation celebrated Read Across America Day with Draft's book, "Do You Want to Play Catch?"

In order to promote the importance of literacy, Draft spent Read Across America Day at the NFL Youth Education Town (YET) Boys and Girls Club in Los Angeles. Draft read to the youth from his new book, "Do You Want to Play Catch?"

That evening, the foundation put the theme of the day into action through a Family Fitness Blitz for the students and their parents. The youth and adults were able to participate in a variety of interactive fitness-related activities, presented by HOPSports and were provided with snacks and drinks following the event.

Each of the 15 NFL YETs across the country will receive two copies of "Do You Want to Play Catch?", donated by the Chris Draft Family Foundation.

About Do You Want to Play Catch?
The Chris Draft Family Foundation launched the Character Team™ in August 2007 as an effort to help good young men and women across the country extend the character-building lessons learned from participation in team sports and extracurricular activities as they apply to everyday life. The focal point of the Character Team™ is to provide unchanging, unwavering, and indestructible standards as a means of measurement focusing on the key character traits of: compassion, courage, honest, perseverance, respect, responsible, and self-discipline.

About the NFL YET
NFL Youth Education Towns (YETs) are education and recreation centers constructed in Super Bowl host cities that serve as a lasting legacy of each game. With each Super Bowl, the NFL donates $1 million towards YET development in an underserved area of that city. The Super Bowl host committee works to gain local public and private support to match the NFL's investment; the NFL also requires each host city to establish a 10-year operating and fundraising plan to ensure that all YETs remain viable in their communities long after the Super Bowl has been played.