Foundation Helps Move L.A.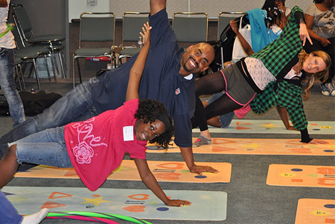 The Chris Draft Family Foundation makes it a point to discuss the importance of health, fitness and leadership across the country. To emphasize these points, the Foundation partnered with KJLH Radio in Los Angeles for Let's Move L.A., a fitness and leadership event on April 3.
The event was part of First Lady Michelle Obama's Let's move campaign to decrease childhood obesity and create a healthier generation of kids. Let's Move L.A. carried on this theme with a variety of fitness events and stations for children ages 6 - 13.
Founder Chris Draft was on hand to participate in some of the fitness activities with the kids and talk to them about the importance of staying healthy and staying fit.
The unique part of the Let's Move L.A. event was that it added a leadership component for adults throughout the day. Adults had the opportunity to come together and learn a multitude of leadership skills that will help them carry the message of Let's Move back to their communities.