Congratulations U.S. General David Petraeus!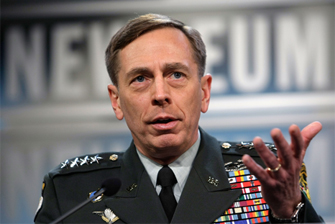 Story courtesy of Yahoo.com

Barbara Walters has chosen General David Petraeus as the most interesting and compelling person of 2010. The choice was revealed last night on her "10 Most Fascinating People of 2010" special. The veteran news personality and her staff felt Petraeus was worthy of the honor- she considers him to be an "American Hero" - based upon his role in the ongoing conflict in Afghanistan. Interestingly, it was a political figure who topped the list last year - namely, Fist Lady Michelle Obama.

Also included on Barbara Walters' 10 most fascinating list of 2010 are octogenarian - and national treasure - Betty White. This comes as no surprise, given the fact that White has been one of the hottest celebrity "commodities" as of late. In her case, it is well-deserved and inspiring. At nearly 90 years of age, White has more spunk and vigor than most people half her age.

Facebook wunderkind Mark Zuckerberg made the list as well. Despite his apparent flaws, one has to commend Zuckerberg for his faithfulness to his longtime girlfriend, whom he has been with since before founding his obscenely successful social networking site. To be sure, based upon his wealth and fame, Zuckerberg could easily be dating - and bedding - scores of gorgeous women (just ask Tiger Woods).

The remaining members of the list include baby-faced pop star Justin Bieber, the castmembers of MTV's "Jersey Shore," Oscar-winning actress Sandra Bullock, actress and new "American Idol" judge Jennifer Lopez, Miami Heat basketball player Lebron James, future princess Kate Middleton and former Alaska governor and possible 2012 presidential candidate Sarah Palin.

Not surprisingly, most members of the 10 most fascinating people list are celebrities. Americans tend to attach a great deal of esteem and importance to entertainers. It has often been said, in fact, that celebrities are to Americans what the royals are to Brits. Which is to say, they are people to be admired and idolized. Americans tend to erroneously equate fame with importance - and this is rather troubling.

It would be refreshing to see Walters come up with an annual top ten list of non-celebrities who are doing "fascinating" things with their lives (there is certainly no shortage of them). This list could be full of unsung heroes who do important work in fields such as medicine, education, social welfare and religion.