Foundation brings Let's Read and Let's Move to Quantico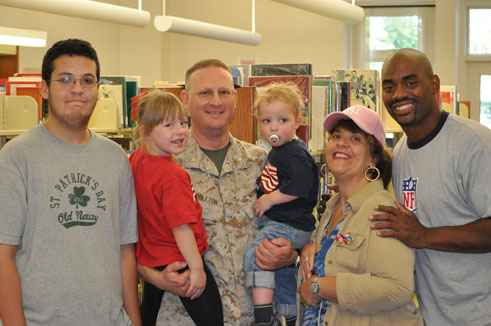 Chris Draft, a retired 13-year NFL veteran and son of a Marine, read his book "Do You Want to Play Catch?" to Quantico families at Quantico Family Library on July 20.
Draft's visit is part of a campaign is called "Let's read, Let's move," a nationwide initiative "United We Serve," which helps meet growing social needs resulting from economic down turn.
"We want to make sure that people are reading and moving together as a family," said Draft. "I appreciate the military and everything they do. It's great to be able to give back to a place where my father got his start as a Marine officer."
"Let's read, Let's move" calls on all Americans to combat summer reading loss and childhood obesity through volunteering and service this summer.
Before reading to the children, Draft took a moment to explain why he'd chosen Quantico as a place to read and discuss the importance of mental and physical fitness.
"My dad's a Marine and I thought this would be an amazing opportunity for me to revisit a place I'd grown up in," said Draft. "I also wanted to spend time with families who are the backbone and support of the Marine Corps."
Draft also organized fitness courses such as sprints and suicides. He also signed autographs as a part of promoting education and physical fitness to children here.
"He showed a great affinity for Quantico," said Richard Freeman, the head base librarian here. "It's great to have him here sharing his experience with education and physical fitness with the families."
"He's helping our mission to motivate kids and parents to learn the importance of lifelong learning," said Freeman. "We want to be a part of the learning process and we want to be accessible to the families striving to learn together."
For many of the children who attended, the books they received after the reading would be their first.
"A child's first book is very important," said Freeman. "It's all about family and that first book is a stepping stone toward the lifelong learn